2. Burmese Tempura
Myanmar is a haven for deep-fried food, and these deep-fried snacks consist of leafy vegetables, onions, sweet potatoes, tofu and mock meat, served with a sweet and tangy sauce. It was a wonderful contrast of earthy, crisp and chewy. In fact, the vegetables are savory and flavorful on their own without needing the accompanying sauce.

There is one particular fritter you need to try : Buthi Kyaw. This thin, crispy chunk of bottle gourd is popular, especially among tourists, and goes really well with sweet and sour tamarind sauce.

You can easily find deep-fried fritters in coffee shops, so get yourself a cup of tea while enjoying the laid-back pace of life in Myanmar.
3. Burmese Curry and Rice Set Meal
Rich in herbs and spices, curry is a popular dish in Southeast Asia that comes in wide varieties across different countries. In Myanmar, however, the experience is slightly different because it often comes as a set-meal. You will be spoiled with the choice of meat — chicken, beef, pork, mutton, and fish — as well as an option for vegetable curry. There is no better way to eat curry than to have it with rice. The set-meal comes not only with rice, but also with a bowl of soup, a mixture of fresh, parboiled, and cooked vegetable dishes, as well as dessert! Some places also serve various dips for the vegetables and you definitely need to try all of them to get a complete picture of Burmese flavors.​
4. Tea Leaf Salad (Lahpet Thoke)
In Burma, tea is eaten as well as drunk! This salad is tasty and different to all the salads you could have ever tried before. It's a mixture of pickled tea leaves, cabbage, tomatoes, garlic, oil, salt, lime, and a mix of beans and roasted peanuts. To flavor, you can also add dried shrimp, toasted sesame seeds and chopped tomato. The dish is an important part of Burmese culture and was believed to be an ancient symbol of peace during times when the kingdoms of Burma would disagree.​
5. Shan-style Noodles
If you are intimidated by Mohinga, you can still get a taste of Burmese noodles with Shan-style noodles. Originating from the Shan region in eastern Myanmar, Shan-style noodles can now be found all over the country. The clear soup might look simple and unappealing, but appearances can be deceiving! Take a bite from the thin, flat vermicelli and marinated meat (chicken or pork).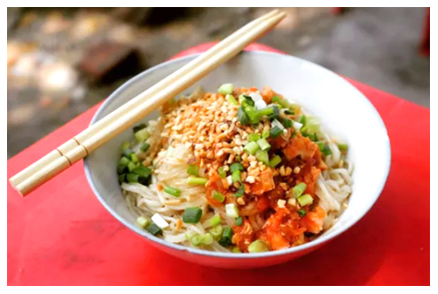 Tohu-nway is another version of Shan noodle in tofu. Poured over a bed of noodles, the thick and yellow gravy in this rice noodle dish is made with grounded chickpeas and tofu from the Shan region of Myanmar.

Essentially a claypot noodle, Myae-Oh-Myee-Shae is a popular Chinese-inspired dish that can be found along the streets of Chinatown. The noodle is served in a bubbling savory broth topped with slices of soft-braised pork belly or shreds of beef, and three different types of vegetables for good measure.
6. Kyay-Oh
There are no shortage of noodle dishes in Myanmar, but this one is especially noteworthy – Kyay-Oh, which is essentially vermicelli soup with tofu, quail eggs or poached eggs, marinated pork balls, and other pork parts. With its increasing popularity, there are now more variations to this dish — fish, chicken, crab, wanton, and a dry version, just to name a few.
7. Mont-Lin-Ma-Yar
These golden deep-fried balls are more famously known as the "couple snack" because each ball consists of two halves. As you bite into their chewy interior, you will find quail eggs, chickpeas, and spring onions inside. Its small size and light flavor make Mont-Lin-Ma-Yar a popular snack across the country.
8. Burmese Sweet Snack
Burmese sweet snacks somehow always include grated coconut. It is essentially grated coconut with coconut milk wrapped in rice paper. The presence of coconut milk is similarly used in Thai cuisine. You could also add strands of noodles in it for a textural contrast or simply to make it a more filling snack. For a dessert, this is not overly sweet.
​
9. Chicken Feet Salad
You might have come across a similar dish in traditional Chinese restaurants, but the Burmese chicken feet salad has its own appeal. Savory, tangy, sweet, spicy — this salad is easy on your palate but so addictive.​
10. Falooda
Saving the best for last, Falooda is definitely, a winner dessert in Myanmar. It's an icy cold, sweet and aesthetically pleasing beverage-cum-dessert that is made with rose syrup, vermicelli, basil seeds, jelly pieces, tapioca pearls – mixed with water, milk and ice cream. It can be a very popular drink in the heat of the summer, especially in beach areas.
While Myanmar is famous for its breathtaking views and rich culture, its amazing food landscape is waiting to be discovered by travelers. There is no reason why you should skimp on your meals in Myanmar as the food there is friendly to your wallet. It's time to pamper your tastebuds with another culinary gem in Southeast Asia!
​
06-07-theregencyhotelgroup_com_YV
10 Must-Try Foods in Myanmar To Truly Experience The Local Life​
Myanmar is not often thought of as the culinary capital of South East Asia. Food in Myanmar is delicious and very healthy, with a big variety of curries, soups, snacks and salads. The cooking is strongly influenced by its neighboring countries; Laos, Thailand, China, Bangladesh and India. The great variety of different ethnic groups in the country makes the cooking diverse. As you travel from Yangon, to Bagan to Mandalay you will experience a range of unique and creative dishes as below.
1. Mohinga
If the Burmese were to crown a national dish, it would unanimously be Mohinga. Although labeled as a breakfast dish, Mohinga is a comfort food that you can have any time of the day. It comes as thin vermicelli soaked in a thick fish broth with strong herbal and shallot flavors. You can also get some chickpeas, crispy fritters, and boiled eggs to complete your meal. While the fishy smell might put you off at first, this dish is a must-try for first-time visitors.