We Are Proud to Be Your Host
Fresh Water pool
The tropical climate in Bagan makes outdoor swimming attached with Indoor Jacuzzi a pleasurable pastime. Our outdoor swimming pool provides hours of leisurely swimming to the hotel residents.
​
Pool Bar
Enjoy a cocktail, fresh pastries and beverages overlooking the lovely pool of The Regency Hotel.
​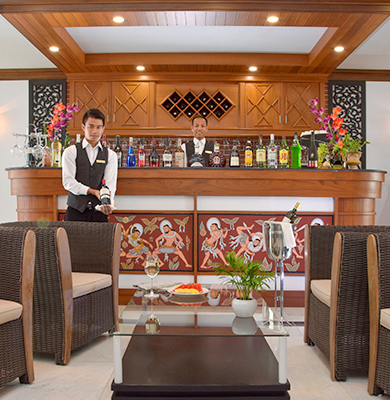 Dining Room
Main dining room with capacity for up to 80 guests and daily inclusive breakfast is served at your services. The Luncheon and Dinner with Western and Oriental cuisines can be ordered in À La Carte menu.
Coffee & Liquid Bar
Our bar offers a range of beverages ranging from different beers, soft drinks, fresh juices to exotic cocktails and special shots.
​
24 Hour Hotel Reception
Our 24 hour reception has staff on hand to assist with your request such as dry cleaning, sightseeing bookings, car rental and room service.
Laundry Service
The housekeeping department offers a professional laundry service and at an extra charge. Guests will have to sign the laundry request form attached to the laundry bag, available in every room.
​
Wake-Up Calls
Register your wake-up call by contacting the reception for no extra charge.
​
Airport Transfer
We assist you to arrange airport transfer for a nominal charge. Valid for confirmed reservation, airport pick-up transfer, drop transfer or transfer both ways, which can be arranged prior to arrival or during stay.​
Car, E-Bike & Tri-Car Rental
We can assist you to arrange for a car & e-bike rental service. Guests can call the reception staff for their travel arrangements. Please enquire at reception and we will take care of it for you. If, on the other hand, you would rather cycle around the city, we have our own bicycles, e-bike & tri-car that you can hire on a daily basis.​